Franchise Focus: Engineers Love Numbers And Phenix Salon Suites
Like all engineers, Nazim Shirur loves numbers, and when he was searching for a place to put his first Phenix Salon Suite franchise, he was surprised and impressed when Phenix Director of National Real Estate Robert Aertker told him that in his hometown of Canton, MI, there were about 160 salons.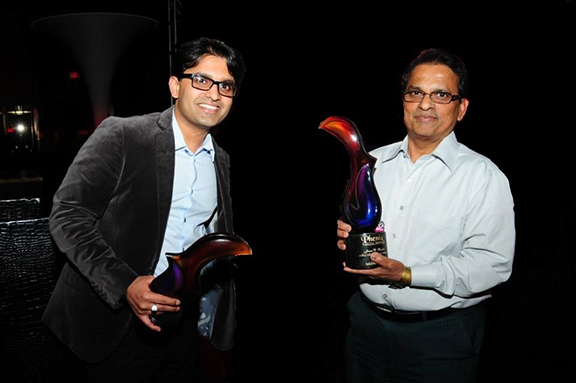 "I would have guessed 15 or maybe even 25!" exclaimed Shirur. Canton is a bedroom community between Detroit and Ann Arbor. What might seem like competition is actually opportunity, given the Phenix franchise model that provides salon professionals the opportunity to run their independent business in their very own suite, away from the typical salon drama and hassles of sharing and maintaining a salon. "It is a noble business model in my mind" said Azeem Shirur, Nazim's son and franchise partner. "This concept enables the salon professionals to lift their standard of living and be their own boss"
Father and son opened their first Phenix in Canton, one of the first in the country, in the spring of 2011. They're on target to open their second in Plymouth, MI, next month, now among more than 60 across the country. They plan to open more in coming years.
"I love business," said Shirur the father. The essence of this statement is best reflected throughout his life experiences. He owned and managed a book and office supply store in India, then started a plastics and packaging material company in Dubai, United Arab Emirates which he successfully managed for more than two decades before moving to the United States in 2001 with his family, where he managed an Aluminum production plant. Nazim and his wife also owned and managed an ice cream and smoothie store in a major mall in Westland MI.
Azeem had come to the U.S. in 2000 to pursue his bachelor's degree in Fargo, ND. After which he completed his Master's degree in Iowa State University. He has worked as a Senior Program Manager in the Aerospace Industry for over a decade. Azeem draws a lesson in economics from the success of Macys Department Store which survived the Great Depression in the United States. Macys was primarily able to do so due to a phenomenon attributed primarily to women shoppers, the same market that he said should help make Phenix resilient.
A big part of what impressed both father and son about Phenix was the down-to-earth sincerity of co-founders Gina and Jason Rivera. They embody the Phenix brand completely," said Azeem.
They were also highly impressed by the energy and enthusiasm of people like Ken Aselton, Phenix vice president in charge of franchising — Phenix was recently named to Entrepreneur Magazine's Top 500 Franchise list.