Suite Treat
Bruschetta with Peach Salsa
Full of flavor, low in fat and calories with healthy ingredients, this is a terrific choice for the New Year.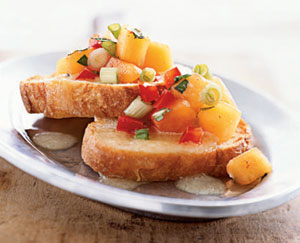 INGREDIENTS
2 cups chopped peeled peaches (about 4)
3/4 cup finely chopped red bell pepper
1/4 cup chopped green onions
2 tablespoons chopped fresh cilantro
1 tablespoon sugar
1 tablespoon fresh lime juice
Dash of ground red pepper
1 8-oz French baguette, cut into 24 slices
4 ounces chilled Brie, cut into 24 pieces
PREPARATION: Preheat broiler, combine first 7 ingredients, set aside. Arrange bread slices in an even layer on a baking sheet. Top each bread slice with 1 piece of cheese; broil 3 minutes or until cheese melts and bread is toasted. Remove pan from oven. Top each bread slice with about 1 1/2 tablespoons salsa; serve immediately.